Japanese Acupuncture
Japanese acupuncture strengthens the smooth flow of Ki (Japanese for Qi) within the 12 meridians to support the body's ability to function optimally, resist illness, reduce inflammation, and resolve causes of pain. Each session includes a root treatment that focuses on building overall core health and resilience along with a branch (symptomatic) treatment that addresses current health concerns. This gentle treatment style is well-suited for elders, sensitive patients, people with anxiety, and individuals with chronic illness.
Pulse and abdominal "hara" palpation provide information about the body's physical and energetic functioning and inform the practitioner's choice the most effective treatment. Indicator points are used to confirm an immediate beneficial response to the treatment.
Much of the effectiveness of Japanese point prescriptions stems from the fact that they focus on supporting extraordinary vessels (EVs) - precursors to and combinations of meridians. The benefit of this is that each needle's effect goes far beyond the meridian that it directly activates.
People who say that they "can't get past their fear of needles" should note that there are extremely effective Japanese acupuncture techniques that don't involve a single needle! A teishin (a blunt instrument placed on the surface of the skin that is used to direct Ki), combinations of magnets, and/or thread moxa (okyu) can be used instead of, or in addition to, the ultra thin Japanese acupuncture needles.
Suzanna was blessed to have had the privilege of learning Japanese acupuncture from many brilliant practitioners, including: Suzahne Riendeau, Diane Iuliano, Nate Langford, Scott Cedeno, Marcus Schulkind, and James Moran.
During her residency, Suzanna was blessed to serve in 3 supervised Japanese acupuncture clinics. She continues to expand her knowledge of these incredibly effective techniques by completing trainings with such masters as Kiiko Matsumoto, Kobayashi Sensei, and more.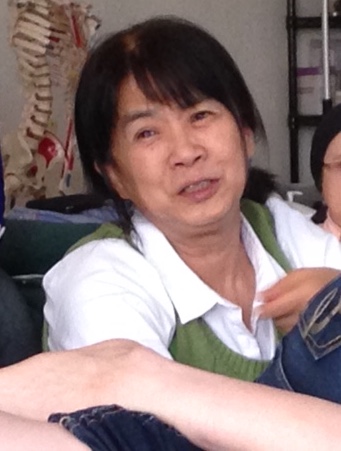 The amazing, Kiiko Matsumoto, LAc