About Bliss Healing & Suzanna Bliss
Suzanna Bliss
Suzanna Bliss, MEd, MAc, DiplAc, Nutritionist and Licensed Acupuncturist, is the primary provider and clinic director of Bliss Healing. Prior to founding Bliss Healing, Suzanna ran the Rooted Wisdom Center for Wholistic Living, a natural health-oriented shop, school, and private practice in central Vermont.
Suzanna's Education:
Diplomate of Acupuncture, certified by the National Certification Commission for Acupuncture and Oriental Medicine (NCCAOM).
Master's degree in Acupuncture (MAc) from New England School of Acupuncture, a division of MCPHS University in Massachusetts. Suzanna completed over 850 supervised clinical hours.
Master's degree in Education (MEd) from Johnson State College in Johnson, Vermont.
Certificates from: Council of Colleges of Acupuncture and Oriental Medicine (CCAOM) Clean Needle Technique, Rosemary Gladstar's Sage Mountain Science & Art of Herbology and Advanced Teacher Training, Dr. Tieraona Low Dog's Foundations of Herbalism, Bach Flower Essence Training, Mastering Brain Chemistry, and Touch for Health Applied Kinesiology
Two years of naturopathic medical training at the University of Bridgeport College of Naturopathic Medicine (UBCNM) and Canadian College of Naturopathic Medicine (CCNM)
Pre-medical coursework at the University of Vermont.
Suzanna's Experience
18 years of teaching for Vermont State Colleges teaching: Human Anatomy & Physiology, Nutrition, Health Psychology, Wellness for Life, Medical Terminology, and Western Herbalism (various 1 & 3 credit courses). Through CCV, Suzanna was hired to provide medical terminology, nutrition, and human anatomy & physiology classes to Fletcher Allen nurses that transitioned from LPN to RN status.
29 years of serving the community by formulating and preparing bioregional herbal remedies, teaching, writing, and leading workshops on various topics including: Plant identification and wildcrafting, Herbal product preparation, Kombucha-making, Aromatherapy, Healthy Internal Cleanses, Osteoporosis
prevention, Brain & Heart health, Flower essences, Stress Relief and much more.
Teaching for the Advanced Herbal Program and gardening at Rosemary Gladstar's Sage Mountain Retreat Center and Botanical Sanctuary in East Barre, Vermont.
Bliss Healing Acupuncture and Natural Health Center
Bliss Healing was opened in Montpelier, Vermont in August of 2016 with the goal of providing the community with affordable, effective wellness care through a blend of Asian medicine, Western herbalism, nutrition, and other natural therapies to resolved chronic and current symptoms and promote long-lasting health.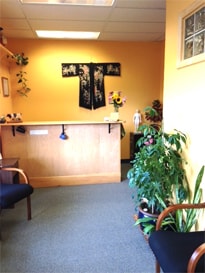 At Bliss Healing we strive to provide patients with a relaxing healing experience that nourishes their entire being.